Li'l Shaker, 2005
Curly birch, satinwood, ebony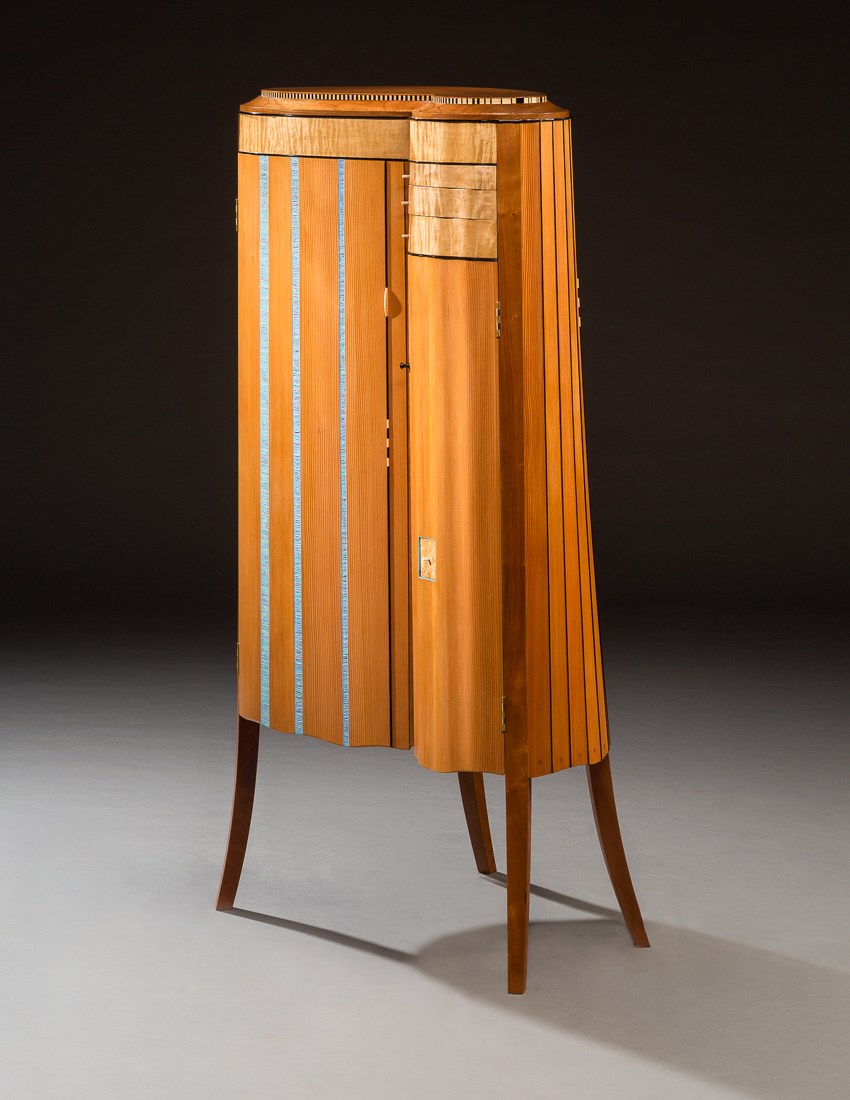 Outside In
Douglas fir, cherry, curly maple, ebony, and 17 other woods, 2017
Outside In
Interior painted by Carolyn Enz Hack, curly birch tambour, a drawer poking through a door, and three swing out drawers that unlock the door below.
Outside In
Staved construction with fine ebony beads at the joints, and drawers opening everywhere. The top contains a Morse Code signature and date.
Outside In
The three rippling drawers are a combination lock to open the wavy door below — by lining up the right colored stripes!
Pleated
fame birch, satinwood, maple, cherry, ebony 2018
Pleated
Pleated
Rear view, slightly hollowed staves and ebony beads
Demi Demi, 2004
Cherry, birdseye maple, crotch birch, ebony, holly
Demi-Demi
Plume birch panel with energetic dot/dash and ebony cockbead
X-Ray, 2008
Curly birch, rosewood, abalone, ebony, holly
Detail, X-Ray
Eskimo "sunglasses" panel with abalone inlay, crotch cherry leg panels
Detail, Pearl, 2010
Wavy watery images, cherry, pear, apple, mother of pearl, crotch birch, ebony, paint
Shaker side table, 1993
Birdseye maple, pear, rosewood, secondary woods (drawers)
Ash chair, 1981
Steam bent ash, Danish cord seat
Pear side chair
Detail Pear Chair
Butternut Chest of Drawers
Butternut, ebony, holly and secondary woods (drawers), with "whale-tail" aprons and French feet
Butternut Chest
Ebony and holly corner column, ebony drawer cockbeads, and coved underbevel of the top
Serpentine Chest
Cherry, rosewood, ebony, holly
Apron Serpentine Chest
Pear Sideboard
Serpentine facade, of pear, bubinga, ebony, holly, secondary woods
Huntboard
Cherry, curly birch, ebony, holly, brass wire
Hunt board Detail
Knobs inlaid with brass wire spirals, fine ebony bead outlining curly birch panel, and incised beads on drawers
Two Nuts, Sideboard
Butternut, walnut, rosewood, abalone, ebony, holly — Asymmetry!
Charleston Chest, 2012
Bowed facade, 14 drawers, of butternut, walnut, ebony, abalone, secondary woods
Charleston Chest, Detail
Ebony corner and drawer cockbeads
Charleston Chest, Detail
Charleston Chest, Detail
Takin' A Shine, 2007
Macassar ebony, rosewood, amboyna burl, silver, birdseye maple,
Takin' A Shine, Detail
A drawer within a drawer, silver inlaid pulls
Takin' A Shine, Detail
Silver Feet, Takin' A Shine
Weikewa Shimmering, 2008
Curly birch, Mun ebony, ivory, gold feet and pulls, abalone
Weikewa Shimmering, Detail
Sunlight glinting off the water, wavy edge and underbevel of top
Weikewa Shimmering, gold feet
Copper and brass feet gold plated, with bone bead transitions to the rosewood saber legs
Va Va Vienna, 2011
Macassar ebony, cherry, satinwood, silver feet, bone pulls, mother of pearl. Painting by Carolyn Enz Hack
Va Va Vienna
Va Va Vienna
Collaborating with Carolyn on the facade painting
Port and Starboard, 2012
Douglas fir, cherry, rosewood, bone, painted panels by Carolyn Enz Hack
Port and Starboard, Detail
Rosewood beads between Douglas fir staves
Port
2 small drawers with bone inlaid pulls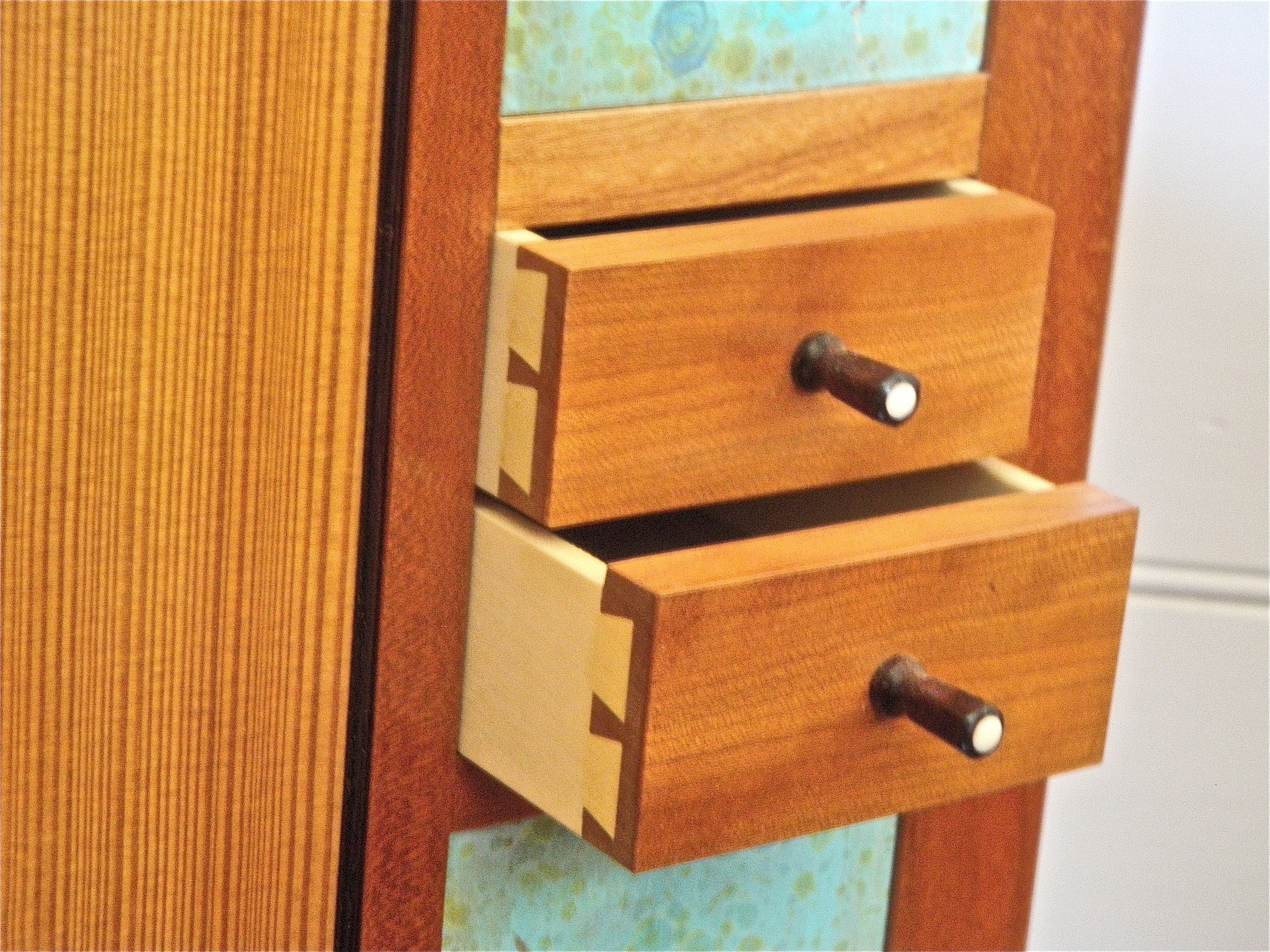 Port and Starboard, drawers
Port and Starboard II
Different painted panels and ebony and holly "dentils" at top of case
Duet, 2014
A cabinet for music, of Engleman spruce, curly maple, ebony, secondary woods, abalone, paint details by Carolyn Enz Hack
Duet, Detail
Duet
Duet, Interior
Duet, Detail
Shelves with fun edges, to store sheet music and musical things
Duet, Leg detail
Ripplicious, 2015
A desk of pear, rosewood, paua shell, ivory, secondary woods, inspired by a trip to the coast of Australia
Ripplicious, Wavy Apron
Ripplicious, 6 Drawers
Wavy rosewood pulls, ivory dots
Ripplicious, Legs
Rosewood with ivory dots and paua shell lines
Wavy Cabinet 2015
A cabinet to store and display violins, bows, and strings — butternut, walnut, aspen, curly maple, Engleman spruce (back), rosewood
Wavy Cabinet, Detail
2 almost secret small drawers, dot/dash edge, and ebony bead "strings"
Pear 2 Drawer Case, 2015
Playing with waves in the surfaces and edges, of pear, rosewood, aspen, bone
Pear 2 Drawer Case
Fir Cabinet
Douglas fir, ebony, Sitka spruce, jade, secondary woods
Inlaid Table Corner
Butternut Scotch Cabinet
Faux malachite panels by Carolyn Enz Hack
Plume Birch Panel
Front apron of a demilune table, with dot/dash outline
Water Strider
Inlaid silver, abalone, banding, with a wake of mother-of-pearl filling small worm holes
Demilune Table, Detail
Brazilian rosewood, birdseye maple, ebony and holly Morse Code inlay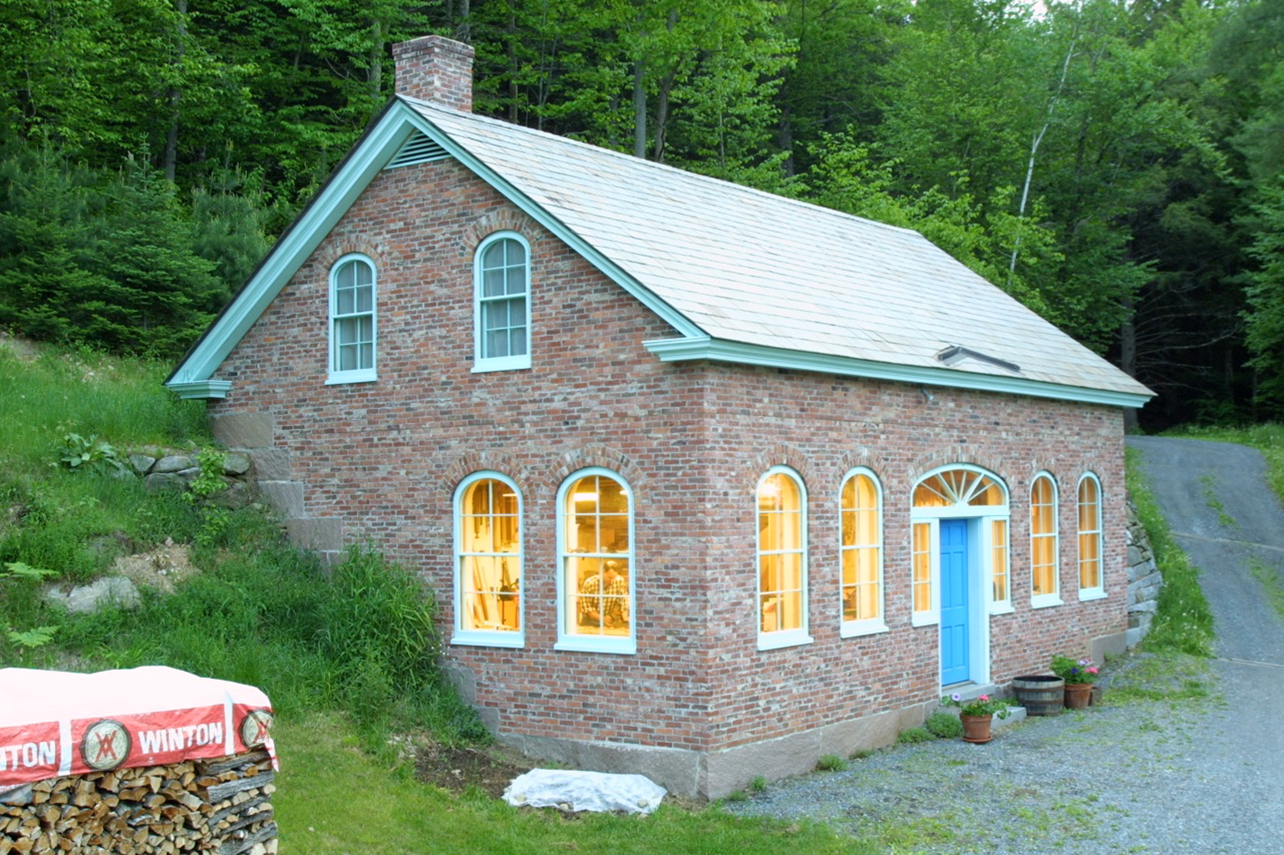 My Shop
Started in 1993, nearly finished. Old brick, granite foundation, slate roof. 24 X 36 feet
Shop Interior
Plenty of natural light, many tools close at hand, cherry wainscoting, aspen floor
Drying Wood
Farm harvested and sawed lumber for buildings and furniture
Jazz
My Belgian workhorse Jazz, turning 12 this summer
Mentoring Group
For two years I have run a mentoring group for emerging makers
Spring Plowing
Our Milking Shorthorn cattle
Summer Hay
Crops
Some of our crops at Abundance farm: Corn, oats, orchard, hay
And a big garden.......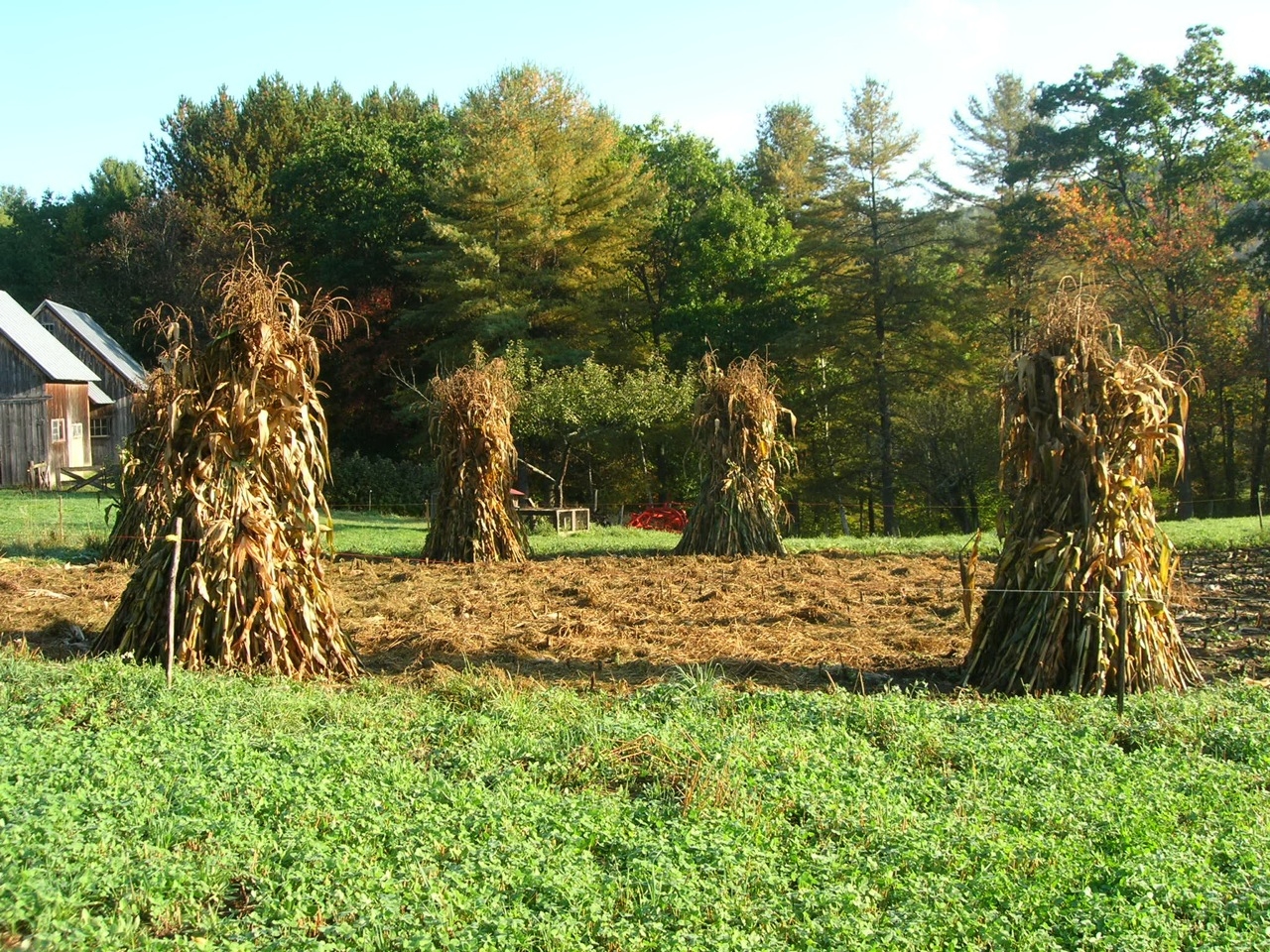 Fall Harvest
Japan 2009
A special competition plane with an iron 8" wide
Japan, 2009
A private planing competition, pitting Lie Nielsen and Japanese planes. Guess who won.
Japan
Planemaker Inomoto-San (white kerchief), a Japanese National Treasure, with his stockpile of plane bodies